Fitting Your Dog
We make dog packs in four sizes. For the correct fit, it is important that your dog be nearly full-grown, usually eight months old for smaller dogs to 14 months or older for the giant breeds.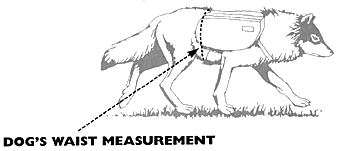 Your dog's measurement is taken around the body at the loin (or waist if they were human). This spot is about two-thirds of the way back, and is the area where the ribcage ends. Please do not measure the narrowest part of your dog's body, but move forward toward the ribs. Bring the tape measure all the way around the body and pull it snug. Record the measurement.
Once you have your dog's measurement, please refer to the sizing chart to find the correct size for your dog. If your dog measures less than 22 inches at the waist, our packs will not fit correctly.
Sizing Chart for our Dog Packs

Small
Medium
Large
XLarge
Capacity is the total volume for the entire dog pack (both panniers). Panner Size is the size of one pannier.
Your Dog's Measurement
22″-30″
26″-34″
30″-40″
33″-46″
Capacity (cubic inches)
650
1150
1600
2200
Pack Weight (Reflector)
.75 lbs.
.90 lbs.
1 lb.
1.2 lbs.
Pack Weight (Banzai)
1 lb.
1.2 lbs.
1.4 lbs.
1. 6 lbs.
Pannier Size
13″L x 4.5″W x 6.5″H
15″L x 5″W x 8.5″H
16″L x 5.5″W x 9.75″H
17.5″L x 6″W x 11.25″H