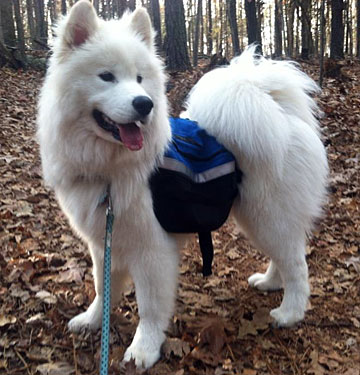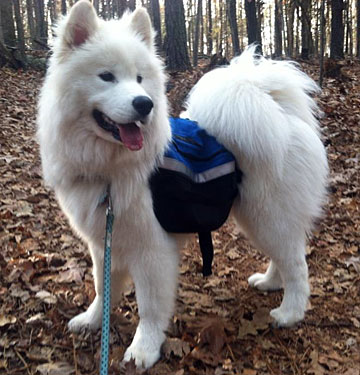 Here is Luca wearing in his royal blue Banzai. His owner bought it through Denver Samoyed Rescue, one of our dealers. Profits from the sale of our products pay for medical and housing expenses for homeless Samoyeds. This is what Luca's owner wrote to us about his new backpack:
Luca, an 8 month old Samoyed, is LOVING his royal blue banzai pack! We ordered the medium and it is a great fit. I did a lot of research online to find the perfect pack, and was thrilled to find out that Samoyed owners had created this one! One of my favorite things on the pack is the reflector detail so he can be easily seen at night. I also love the two strap idea so that he doesn't get hot spots behind his elbows.
Luca loves to go hiking with me, and I thought getting him a backpack would be great because he likes having a job to do. Here are some pictures that I took on our hike at Jordan Lake in Raleigh, NC. It was his first time wearing a pack and wearing it seemed like second nature to him. One minor adjustment in the beginning of our hike is all it took to get the perfect fit and it held up so well on the trail, no snagging on tree branches or issues with the pack slipping forward on downhills! And best of all no hot spots on Luca! We still have more experimenting to do with the pack, but I have a feeling that this pack is going to last for years and years! Thank you for this wonderful pack as well as allowing the Denver Samoyed Rescue to sell it. There's nothing better than getting a great product and helping Sammies in need at the same time!