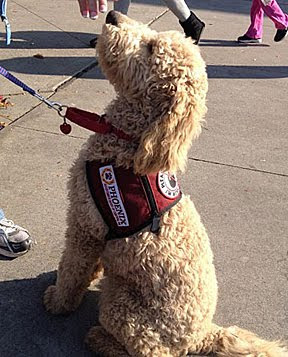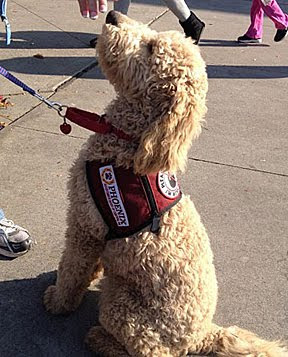 Davy is a six month old Labradoodle puppy, who is being trained by Linzey Zoccola of Phoenix Assistance Dogs (PAD) in Pennsylvania. Linzey says:
PAD Davy is being trained to provide mobility assistance for an individual with a physical disability. He is a Labradoodle. In this photo he is practicing basic obedience at Hershey Chocolate World!
Davy is outfitted with PAD patches, our Please Don't Pet Me patch, and an ID Cape dog vest which is one of the custom items Wolf Packs makes for training dog organizations. Please contact Wolf Packs if you run a program and need to outfit the dogs you train.