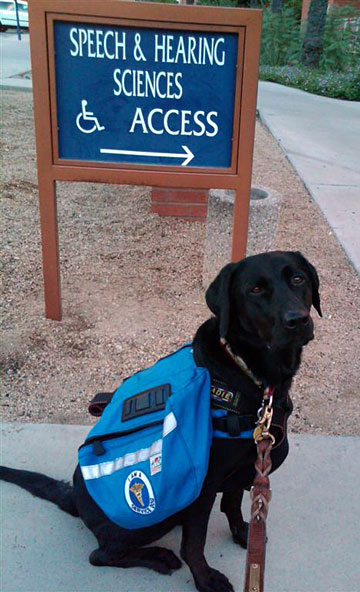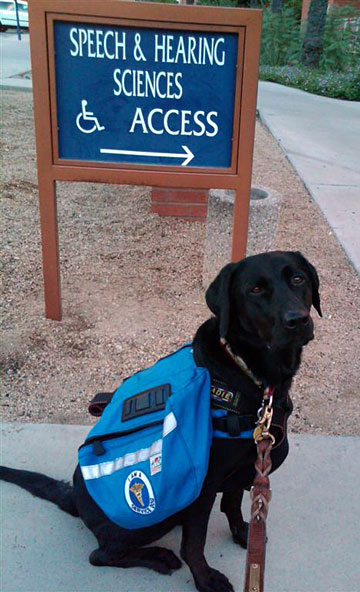 Birttany Lindsey has a wonderful service dog partner named Sable. This talented Labrador Retriever helps Brittany every day. Sable is outfitted with several of our products. This is a message from Lindsey about Sable's gear:
We have one of your ID Capes, and just ordered the Reflector dog pack from you. It has been beautiful. I wouldn't be able to do what I do at the university without her help carrying the bag which she does with a great sense of purpose. She returned 80 graded exams and 80 copies of an article to my students as well as carry my computer cable, electronic devices and our water and her extra snacks. She's still bumping into door frames a bit, so I'm having the Service Dog patches sewn on rather than glued. This is when I realized that I can't live without the bag.

I've discovered that since the bag is so light, she can go anywhere with it on without my worrying about her and it is great for shopping, too. She carried our blueberries and my meds the other day at the Sam's and even my leftovers out of a restaurant yesterday (she thought that was terribly unfair, but I did share with her eventually so she got over it!). Thanks so much for the beautiful, light weight design.
I ordered four other different bags to compare and it was by far the lightest, easiest to get on and off and best fitting of the bunch. So, thus, we need a second one so that I'll be able to wash one and also have patches sewn on. I wish I could order the patches along with the bag here, but we look forward to seeing our back up bag at least and we thank you for your careful construction and design.
Thanks so much,
Brittany and Sable