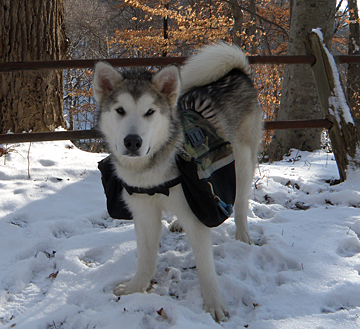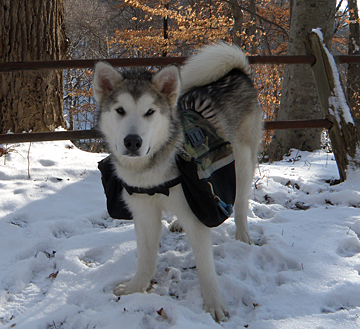 Joshua Hantman and his Alaskan Malamute Tikkah are hiking on one of the trails near Philadelphia in this photo. Joshua ordered this pack from us for his first Alaskan Malamute in 2001. He recently sent us the following message:
I bought a Banzai pack thirteen years ago for my first Alaskan Malamute, Tikk. Together we logged roughly a thousand trail miles with your Banzai dog pack, until he passed away four years ago. Unable to cope without a dog wearing your pack, I bought another Alaskan Malamute, a female named Tikkah, who has taken Tikk's name AND dog pack another thousand miles already.

I have used the same pack for two dogs, over grueling trail conditions in all sorts of weather and have been utterly delighted with the quality of the pack. You have my undying devotion and support.
I tell many others I meet on trails about your company's fine product.